Yesterday was a holiday break from school for the girls in observation of MLK Day. Including the holiday break and the ice days, that was the fourth Monday in a row with no school for them. When I say we could all get used to that, believe me…we could. But, alas, all good things must come to an end and next Monday will be another 6am wake-up call. Yet another reason to be thankful that my coffee can be brewed and ready by the time I find my way downstairs to the kitchen. Ahhh!
Both girls had friends over on Sunday evening which meant they were happy, but thoroughly exhausted, yesterday. Macey was able to have a pretty laid back day at home, but Mariana had setting rehearsal for her spring dance show. (Let's just say that a certain 10yo dancer beauty got a much needed early bedtime last night.) Since we had the day off, I knew I needed to catch up on some laundry yesterday, with Mickey's help, and especially knock out some ironing. Yes, ironing. I still do it. Whenever I've mentioned this to some people I get that look of "Are you nuts, woman?!" And, maybe I am, but I can't not iron.  I'm not over the top about it because I'm not quite so picky about, say, work-out clothes, though I've been known to press a t-shirt before I put it on to go for a walk. But, only if it's super wrinkly and looks like I slept in it. I also don't get overly fanatical about things and iron our bed sheets.(This is mostly because our sheet sets come out of the dryer looking amazing most of the time.) I do like nicely pressed pillow cases though. Is that weird? And, is it really so weird that I still iron?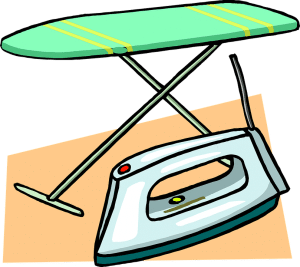 I have always ironed. Even when I was single and working full time. Back then, I would sometimes get industrious and iron all my outfits at one time and have them pressed and hanging in the closet waiting for me. That was RARE though. Most mornings found me in a scramble trying to press a shirt on the floor so I could get presentable and scurry out the door and into the morning commute traffic. Logically, I always wanted to be more prepared, but logic didn't always win out back in the day. Just keeping it real here, y'all. Even so, I didn't skip out on ironing even then. I thought everyone ironed. Until I met Mickey. He didn't iron a thing. NOT ONE THING. All of his clothes were "wash and wear." Wait…what? I didn't realize that was a THING. Come to find out, what he would do is wash and dry his clothes and the very second the dryer dinged, he would immediately hang them up. Just like THAT. And, sure, they were passable. They weren't IRONED, but they were okay. Still, that wasn't a system that would work for me. First of all, I was almost never around when the dryer went off. Clothes had to do time in the washer and dryer. A load was usually thrown in before I left for the day and either tossed into the dryer when I got home or re-run the next day if I forgot them. I wasn't the busiest person ever after work back then, but just wasn't home every time the dryer finished. So, I always wound up with clean, wrinkled clothes that needed to be ironed. Meanwhile, he was content to grab his from the dryer, hang them, and go on with his life. Simple, right? Well, I broke that not long into our dating relationship. I decided he needed to up his game from just (wash and wear) pale blue shirts and khaki pants to more professional looking shirts and ties. I was on a mission and TJ Maxx came to the rescue back then with an awesome sale on men's shirts and ties. He was soon set with  more professional attire, but…guess who got to iron them? THIS GIRL! I'll be honest, I liked it. I felt all domesticated. I was taking care of my MAN, y'all. He was looking so spiffed up and getting compliments at work. I could iron for that, for him — absolutely! And, I dropped those wash and wears right to the Goodwill too. Woot! All of that was great and, guess what? He still likes his nicely ironed clothes to this very day. Here's where I confess that I don't iron for him quite as often since I do the girls' clothes now too, but I still take care of his stuff now and then. He's actually learned to iron quite nicely and he doesn't even sideways glance at the wash and wear section at the store anymore. Much.
So, back to yesterday. Macey and I had been invited to go kayaking with some dear friends, but I had a pain in my lower back that I did NOT want to aggravate, so I asked for a rain check for us and stayed home to catch up on some ironing. I have a system where I do the girls' clothes and hang them outfits together on hangers. It really just makes mornings run more smoothly when all they have to do is go to their closets and pick a hanger. Seriously. I know I can't do this forever and I won't, but for now I'm opting for the simplicity of mornings with this system. Anyway, I was working on sorting clothes to iron yesterday when a monster headache came out of nowhere. Darn sinuses and the headaches they produce! So, I took some meds, beasted out the sorting of the laundry, had a bite of lunch that Macey made (delish!), and fell out for a much needed nap with the warm mist humidifier an my essential oil diffuser going too. Clearly, I needed that nap because I slept so hard I was actually DREAMING. A good two hours later, I came to and still had a piece of that headache, but felt well enough to finish ironing.  Happy to report that the girls' school outfits all got done and hung in their closets. Given the events of the day, I'm calling that a win.
Almost every time I iron, I wonder this — for those that DON'T iron, what do you do? How do you get clothes to look nice and presentable if you don't iron them? I'm asking in all seriousness, not one bit judgy, please know that. I'm genuinely curious. While I am good with teaching the girls to iron and keep their clothes looking nice, I also want them to have flexibility in their life skills. NOT ironing is not something I am familiar with doing, so I wonder what the alternatives are, exactly? I should say that when things look rough out of the dryer, it would drive me nuts to try to wear them that way. They have to be smooth looking. What do y'all suggest as alternatives?
The crazy thing is that I actually enjoy ironing. I will often knock out piles at a time and watch a tv show while I'm getting it all done. I'm a huge dork for saying this, but it just gives me satisfaction to get our clothes ironed and looking just so. BUT, if there are good ways to have clothes looking fabulous without ironing, I would sure take those suggestions. What say you, good people?
Have a wonderful day,
Kel