Welcome to my blog! However you got here, I hope you enjoy reading and hope you'll visit often. (I'll try to keep things interesting.) If you've seen my blog previously, you might have noticed things have changed. If you go WAY back, by some stretch, this blog has actually changed twice. I am not the most consistent blogger in the world, I admit, but I like to keep it going when I can.
One thing you'll get to know about me, if you don't already, is I'm a girl who really enjoys coffee – especially my first cups in the morning. I wanted a blog that would be a place of encouragement, a place for friends to gather (so to speak), a place to share recipes, and a place that inspires hope. The realization came to me one day that I want the feel to be like friends talking in a coffee house. Thus, Coffee With Kel came into mind. I confess, I originally thought of Coffee with KelMel, but dear husband thought Coffee with Kel was easier to remember, so here we are.
A few tidbits about me:
I am a Christian who is saved by God's amazing grace. I couldn't be further from perfect, but I am blessed to be saved and redeemed by the blood of Jesus Christ.
My family and friends mean more to me than I could ever put into words. If you were to ask me my three greatest blessings, I'd no doubt tell you – faith, family and friends. I am one blessed lady.
I am a true Southern girl. I was born and raised in Southwest Georgia.
I live with my awesome family in metro Atlanta and we love it here! Can't imagine living anywhere else.
My husband, Mickey, was born and raised in Michigan. We are certain that Divine Intervention brought us together.
Mickey and I are proud parents to two amazing teenage daughters. I have always said every new phase of life is my new favorite and the teen years are no exception.
I am a stay at home mom and it's honestly my dream job.
Things I like:  great books, good movies, hot coffee, the beach, cooking/baking, time with friends, adventure, Disney, travel, photography, football – UGA Bulldogs and Atlanta Falcons, naps, and good music.
Things I  am not a fan of (besides the obvious things like prejudice and hatred): cold weather, celery, and scary movies.
Did I mention I'm Southern, y'all? I often write like I speak.
Thanks for checking out my blog. God bless and keep you!
Kelly
For I know the plans I have for you," declares the LORD, "plans to prosper you and not to harm you, plans to give you hope and a future. Then you will call upon me and come and pray to me, and I will listen to you. You will seek me and find me when you seek me with all your heart – Jeremiah 29:11-13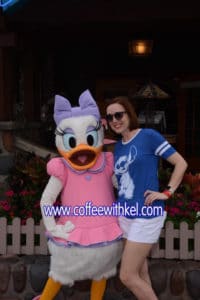 Me with my friend Daisy – February 2019