Two blog posts in two days. WHAAAAAAAAAT?! I feel pretty sure I'm not going to become an every day blogger, but, hey…never say never.
Today I want to share a recipe for one of our family favorites – sour cream pound cake.  I would venture to say that most southerners enjoy pound cake. I can absolutely vouch that THIS southern girl ADORES a good pound cake. The top part is my absolute fave! I confess that even though I will be resisting this one, it'll take ALL my willpower. Pound cake is absolutely delicious by itself, but can also be enjoyed in a fruit trifle, as the base for strawberry shortcake, and more.  So, it's not only great tasting, but versatile too. What's not to love?
This is a recipe I've made for YEARS that I have typically made in a loaf pan. However, I just recently got a super cute new 6-cup bundt pan and I wanted to try it and it worked beautifully for this recipe. I'll give y'all the approximate cooking times for a loaf pan AND a 6-cup bundt because they both work well. This is the PERFECT recipe for when you want some pound cake, but you don't need a whole HUGE one.  Since Mickey and I are back on our Intermittent Fasting/Low Carb/Low Sugar plan, this one is for our sweet girls to have this week.
Smaller Size Sour Cream Pound Cake
1 1/2 cups plain, all-purpose flour
1 pinch baking soda (I pour a small bit into my hand and literally PINCH out just a bit)
1/2 cup (1 stick) butter, softened
1 1/2 cups sugar
1/2 cup sour cream
3 eggs
1 teaspoon vanilla extract
1/2 teaspoon almond extract
Preheat oven to 350-degrees and grease/flour a 6-cup bundt pan or an 8×4 loaf pan.
In your mixer, cream butter and sugar together until light and fluffy. Add in sour cream and mix well. Then add in the eggs and the flavorings. Lastly, add in the flour and pinch of baking soda until well blended. Pour the cake mixture into greased/floured 6-cup bundt pan or 8×4 loaf pan. Bake at 350 for 40-45 minutes (6-cup bundt) or about an hour (loaf) – until the top is nice and golden and a toothpick inserted into the cake comes out clean. Times will vary, but once you've made it once, you should be set on the time it takes in your oven. For me, the 6-cup bundt baked perfectly in about 42 minutes. Let cool for about 5-8 minutes in the pan and turn out onto plate or cake stand.
****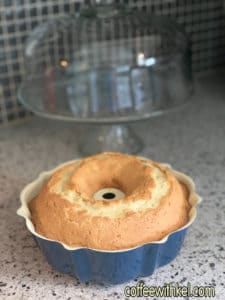 This is the cake fresh out of the oven.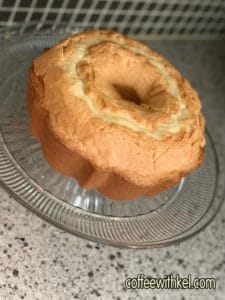 Isn't she PRETTY?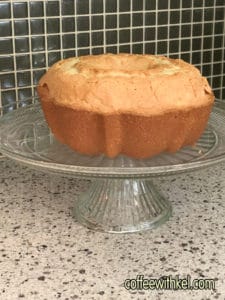 Check out that pound cake profile.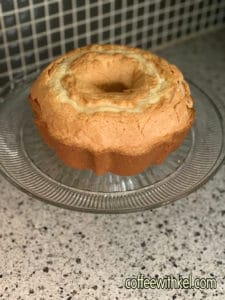 See that beautiful top part? It's the BEST!
Just for reference, this is my full-size buttermilk pound cake that is baked in a regular bundt pan. It is SO YUMMY and I'll be sharing the recipe for it SOON.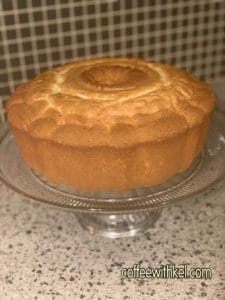 You can see that this cake is much bigger than the small one I made today. Also delicious, so stay tuned for that recipe.