Well, y'all, it's been another weird week with illness in the house and such. BUT, I'm going to give a praise report right here and now that strep got kicked to the curb quickly. Besides, we have ZERO room for complaints. I'm just gonna say thank God for His healing provision and for meds too. Can I get a witness?! (PS: Strep, I mean it…stay gone!)
Besides the sick business, it's just generally been a somewhat busy week. Not bad, just random stuff to do. For instance, I am one of the room moms for Mariana's class and we were asked by the school foundation to assemble a themed basket for them to use in the upcoming silent auction. I actually enjoy this kind of thing, so that was fun. Our class theme was "Family Movie Night" and I had a good time assembling various movies, movie passes, pizza gift cards, and snacks to put in to it. It's due to the school today, so, of course, I finished it…last night. Hey, at least it's done. Woot!
I also started wearing my FitBit again this week. Full confession, I don't even know the last time I put it on and counted steps. It's been a minute. A very long, drawn out, don't even want to admit how long, MINUTE. Mickey added me to a "Work Week Challenge" that he does and, y'all…I am so dang competitive sometimes. Within my reason, okay, let's keep parameters fair. If you challenge me to a foot race, I know I most likely can't even remotely compete. Pull-up competition? Please. Shoot baskets? Negative. I know my limits, of course. But, when it's something I legit CAN win? Dude. I am hyper motivated. Getting steps in? BRING…IT…ON!! So, I've been beasting out some serious steps this week. As in, today I hit my 10k daily step goal before 10am. Whaaaaaaat?! Macey goes to FCA at school early on Fridays, so I got an earlier start on my nice long walk. Felt amazing, actually! And, I totally promise I'm not trying to brag much, okay some, but I'm killing it in that challenge. Someone give me a virtual fist pump, please! *wink
In addition to the "Work Week Challenge", Mickey and I have challenged ourselves to get in one million steps before our beach trip with our friends after school get out for the year. ONE MILLION steps between now and then. Seems like a lot, but it's totally attainable given that we have well over a hundred days until then. The idea was born from me wanting to get a quarter million steps in February. I'm trying to keep myself motivated. I really need to exercise and walking is something I really enjoy. I get out there, put on a Podcast (usually Passion City Church) and/or listen to music, just working my body and feeding my soul at the same time. I'm very fortunate that I have good areas to walk around my house and have routes anywhere from 1.5 to about 5 miles that I can take, depending on how much time I have, what I want to do that day, etc. So, I'm challenging myself to get out there, keep moving, and get those steps. I want a quarter million this month and ONE MILLION by the beach. I can do this, right? And, when I do — I need a t-shirt that says "I walked a million steps to get to lay on the beach." HA! Who's going to make that for me?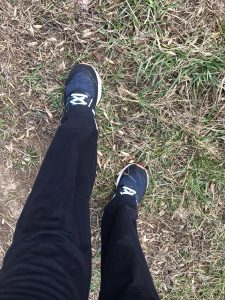 Would you like to join us in a steps challenge? Either getting a quarter million in February or a million by, say, Memorial Day? If so, let me know. Let's get to steppin' together and get healthier at the same time.
Oh and, this is so unrelated to this post, but…it's FALCONS FRIDAY too, y'all! Our Birds have us pumped straight up for the Super Bowl this weekend!! RISE UP!!! I can hardly wait!!
Have an amazing weekend,
Kelly