I decided that this year I don't want to make resolutions. Not that I've made traditional resolutions in a long time, but doing that just didn't hit my radar. Instead, I decided that, in addition to the things I posted in the cute meme yesterday (which rocks!), I wanted to come up with a list of attainable aspirations for this new year.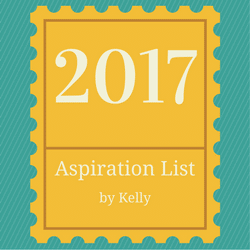 20 dates with Mickey in 2017. Admittedly, we fall into the routine of life and don't always carve out time for dates. Since dates are so important, not to mention fun, I'm aspiring to 20 dates this year. They can be dinner dates, lunch dates, weekend get away dates — anything goes.
Log 50 hiking miles in 2017. I almost challenged myself to 100 hiking miles, but I decided I best be more realistic. With the girls' soccer and dance occupying many weekends, that doesn't leave all that many for hiking. But, we enjoy doing this as a family and we should take some opportunities to explore new (to us) trails this year.
Take a class/learn something new in 2017. Odds are, I'll finally get around to using the Harley Davidson Riders' Safety course certificate I got from a gracious rider last summer, so that may very well be my learning experience. And, that would be super amazing, honestly. Just so long as I learn something new and take a chance on something outside my usual realm, this one will be check off the list.
Incorporate new meals/recipes in 2017: Y'all, this one needs some serious attention. I get in such a rut and I am the world's worst about menu planning. So, I wander about the grocery store grabbing this and that, then get home with a ton of food and yet no inspiration to cook. And, I enjoy cooking, that's just the thing. Perhaps this goal should be better menu planning and aspiration, huh? I'll work on that. And, one day soon I'll be posting a recipe swap thread that I hope you'll post in too. In the meantime, I'll be scouring cookbooks, cooking blogs and Pinterest AND making good grocery lists. This is so doable and would really be a great thing for me to do.
Be more diligent about knocking out house projects in 2017. This one also needs attention. There are so many projects around home that I can and should be doing this year. I need to be incorporating organizational ideas, our basement floor needs to be stained, I have a table that needs to be painted, the guest room needs an overhaul, etc. In short, I have plenty I need to do.  So, I need to get down to not only wanting it, but being inspired enough to DO IT.
Take and complete a Bible study course in 2017. For various reasons, mostly scheduling, I haven't been in a Bible study in awhile and I miss it. So, I would like to find a good study to take this year. I always find that spending more time in The Word helps keep me more centered. So, this needs to happen. No question.
Send more letters/cards in 2017. I love getting mail. I think that's why I still subscribe to magazines, frankly, because getting stuff in the mail is such a joy to me. One small, but very real, reason I love Christmas season so much is because we get cards in the mail almost daily. Mail is my jam, y'all. It may well be my third love language. Since I enjoy it so much, I want to be more intentional about actually sending it too.
Have an individual Mama/Daughter experience with each of my girls in 2017. I want to plan something fun and focused on each girl individually. Of course, I want us to have family fun, but I think it would be so amazing to just do togetherness things with them one-on-one, as well.
That's my list for now and I think it's solid. Certainly, I have additional hopes for this year too including volunteering, family trips, getting more use out of my camera, and more. For the purpose of this list, however, I wanted to challenge myself a little more and come up with some aspirations that are worthy of achieving in this new year.
I'm curious, what are YOUR aspirations for this year?
Happy January 2nd, y'all! I hope this year AND this week are off to a bright and happy start.
My best,
Kel