For over a week now, I've been battling some upper respiratory/sinus/allergy "crud" that has had me feeling less than stellar. So, I'm claiming today as FEEL BETTER FRIDAY! I woke up at 5am, ahead of the alarm "just because", and I have to say that I almost felt elated to move my head without it throbbing/hurting. I knew a better day was brewing! And I did what any reasonable person would do…I laid in bed until the 6am alarm. Ha!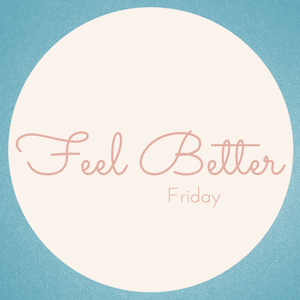 On this "Feel Better Friday", I decided I would post about some good things…inspiring things…happy things. I figure you don't have to look far to find negativity or bad news in today's world, so why not bring a little cheer to my small corner of the internet?
South Georgia is inspiring me with the way the communities affected by the storms earlier this month and this past weekend are coming together to support one another and to help rebuild, restore, and revitalize the devastated areas. People from all walks of life are working together for the common good of the areas hit by the storms. I've heard of so many people donating items, working in shelters, serving meals, raising funds, and MORE. I just think it's incredibly awesome that there is so much good going on there. As much as I'm saddened by what happened "down home", at the same time, I'm inspired at the way community comes together in times like these. It's been a tragic month for those impacted by the storms, but the way people unite to serve and help one another is a true thing of beauty.
A friend of mine that I've known all my life shared our kindergarten graduation photo on FB yesterday. I can't share it here because I don't have permissions from everyone in the photo to post so publicly, but, just trust me, it's adorable with all of it's very early 80's goodness. What makes me the happiest about seeing that is that I'm still connected with several people in that photo. That's one of the best things about social media, if you ask me. I know there are some downfalls to social media too, but being able to keep in touch with people is such a gift. Even if it's only in status updates and photos, it's so cool to get to see each other's children grow up and to share happy times, to pray through hard times, and to just remain connected in some way.
Even though I wasn't feeling super great Wednesday night, I still got to volunteer with children's ministry at our church and it was so much fun! I'm going to confess that I'm basically a grumpy old lady in the winter because the idea of leaving the house "when it's almost dark" is not all that appealing to me. (Go ahead, laugh…I know. *wink) BUT, being with the kiddos at church is all worthwhile. Even when they are squirmy and silly and all over the place, it's still fun. And, so worthwhile. I'm very thankful for this opportunity and for the bonus time with Mariana.
Our meal delivery box from Hello Fresh has so far been a success. I am hoping to try the citrus shrimp tonight, so I'm HOPING the shrimp are still good. (Oh please, oh please…) I made the beef and broccoli for the family on Wednesday and it took longer than I anticipated, but they enjoyed it. Next Friday, I have a delivery coming from Green Chef that I'm excited to try also. I think it's pretty cool that there are all these meal delivery services that not only deliver groceries right to your door, but also have some pretty fantastic meal inspirations. I'll let y'all know more about Green Chef once we've tried it. (Also, remember you can try Hello Fresh for $40 off  your first box with my link.)
Grey's is back! Shhhh, I still have to watch last night's return episode, so…no spoilers, please. I don't even care if I'm a big dork for being happy about the return of this show. I'll admit that I'm still hooked. Hashtag AIN'T NO SHAME, y'all.
Coffee is GOOD. That could be a stand-alone statement right there. Coffee…is…good! But, what made this morning's even better was that my sweet husband made a pot of coffee for me. I usually prep the coffee maker in the evenings and set it for 5:55am, but I was feeling pretty wretched last night, so he made it this morning. Awwwwww! Thanks, honey!
My family has avoided the crud (hallelujah!) annnnnnnnnnd, it's the weekend! Big time happies right there!
So, tell me…what has inspired you or made you happy lately? Gimme the good stuff. And, have an amazing weekend, y'all!
Best,
Kel